When Harley Has Anxiety
A Fun CBT Skills Activity Book to Help Manage Worries and Fears
160 pages
•
Published 2021 (Z Kids)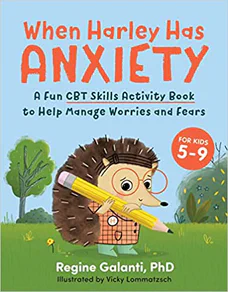 Recommended Age Range:
Kindergarten through 5th grade.
Publisher's Summary:
All children get anxious sometimes. For some kids, though, anxi­ety can become something bigger and more intrusive, stopping them from enjoying friends, family, activities, sports, or school. Through a friendly character, colorful illustrations, and fun activities made specifically for kids ages 5 to 9, they will learn cognitive behavioral therapy (CBT) strategies to allow them to work through anxious situations on their own. By practicing these strategies, kids will develop the skills needed to manage their anxiety by changing their worried thoughts, behaviors, and physical reactions.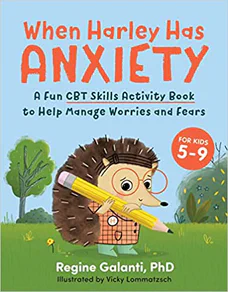 Dr. Annie's Takeaways
Recommended for:
I highly recommend this workbook for parents and children to work through together over many weeks or even months. It's ideal for a child who would like to feel less anxious and who is ready to learn some strategies for getting their anxiety more under control. This workbook is based on
cognitive behavioral therapy (CBT)
and is a comprehensive collection of
evidence-based practices
for childhood anxiety. Therapists may also be interested in using this book in session with clients as a way of structuring their treatment or as between-session "homework" for children and their caregivers as a means of reinforcing in-session content.
Would a child like it?
As workbooks like this go, it's approachable, non-judgmental, and really helpful. A child who has some insight into their anxiety and wishes that it would stop getting in the way for them as much will likely be open to working through this book with a trusted adult.
Tone:
Informative, friendly
Story Quality:
This workbook is really well done. The language is kid-friendly, it's organized well, and Harley the Hedgehog is cute and makes the workbook more unintimidating. There isn't an overarching metaphor or much of anything in the way of story or narrative, but it very successfully accomplishes its goal of teaching children about anxiety and the most research-backed strategies for managing it.
Illustrations:
Very cute, colorful illustrations of Harley the Hedgehog and her friends punctuate the text and the activities throughout the book.
Representation:
Harley is a female hedgehog. She has parents (a mom is specifically mentioned) and lives in a nest. She has several woodland creature friends.
Psychological Practices:
This workbook is a compilation of anxiety-management techniques from cognitive behavioral therapy (CBT). It includes psychoeducation about anxiety, and it walks kids through different cognitive strategies (e.g., learning to identify helpful thinking patterns and unhelpful thinking patterns), relaxation exercises (e.g., belly breathing, mindful eating), and exposure exercises (including a great explanation of how avoidance perpetuates anxiety and how a child can start to challenge their avoidance and gradually stand up to their fears).
---