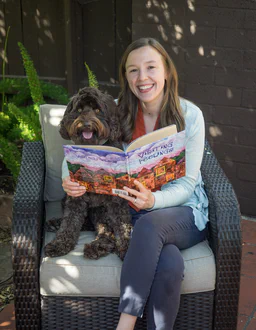 Who is Dr. Annie, and why should I trust her recommendations?
Hi, that's me! My name is Annie Allclair, Psy.D., and I am a licensed clinical psychologist. I specialize in providing evidence-based treatment to children and teens. I received my B.A. in psychology from Pomona College in Claremont, CA and my Psy.D. (Doctor of Psychology) from the PGSP-Stanford Psy.D. Consortium in Palo Alto, CA. I am currently a part of a group private practice in the San Francisco Bay Area.
I love dogs, hiking, ice cream, and learning to garden through trial-and-error. I have always loved books and reading, and I have read hundreds and hundreds of children's picture books (500 and counting for this project). I live in the San Francisco Bay Area with my husband, baby boy, and our very good dog Heidi.
Who is this website for?
Dr. Annie's Bookshelf is intended to be useful to mental health practitioners who want to use books in their therapy sessions or make recommendations to their clients' families, as well as to parents and caregivers who are looking for books to read with children at home. I'm optimistic that educators, child care providers, and health care providers will also find it useful. My hope for this project is to do the legwork of finding good mental health-related children's books and describing them in enough detail so that you can easily choose a book or two that fits your needs.
I am often asked for book recommendations when a child is going through something difficult or confusing. Maybe the parents are divorcing or a sibling was diagnosed with cancer. Maybe the child is expressing overwhelming worries or a parent is struggling with substance use or depression. Or maybe a child has started asking about big topics like sex, or death, or racism, and the parents have no idea where to start! My hope is that Dr. Annie's Bookshelf will be a resource for providers and caregivers to consult in these situations.
Importantly, all of the books on the Bookshelf are intended to be read to a child by a caring adult or by a child alongside a caring adult.
Can these books replace professional mental health services?
In most cases, no. In some cases, a child may get what they need from a book or two and some conversations with a caring adult. The interactive workbooks are likely to be particularly helpful. For the most part, though, these books are intended to supplement professional mental health services when needed. That said, not all children have access to professional mental health services for a host of systemic and individual reasons, and it is my belief that these books are often better than nothing. There are many barriers to accessing mental health care, and books are very accessible. Many of these books are available in public libraries, and even more are available as read-alouds on YouTube, although when possible, reading a physical book together is usually preferable to watching a YouTube video together. I have included links to read-alouds primarily for providers and caregivers to be able to preview a book prior to purchasing it or checking it out from a library, and I strongly encourage adults to review a video before sharing it with a child, if they plan to do so. Although I tried to link to the highest quality ones that I could find, the videos range greatly in quality and some include commentary that you may want to skip over.
Importantly, if a parent or caregiver has concerns about a child's mental health, it is often best to first talk with a child's pediatrician. If therapy is recommended, I encourage parents to reach out to providers as soon as possible, as many child therapists have long waiting lists.
How have you decided which books to include?
I am focusing on picture books written for preschoolers and elementary-age children rather than board books for toddlers or chapter books written for older children and teens (I may expand this age range later). I have included some workbooks written for school-age children to complete with an adult but not books written specifically for adults.
My goal is to find and recommend books that are well-written, beautifully illustrated, and clinically useful, with diverse representation. I am always looking for books that have an emotional resonance and/or humor that both children and adults might connect with and enjoy. I am reviewing books with no promise of neutrality. I am one person with opinions (and a love of dogs–books with good dogs get bonus points), and my opinions are reflective of my values as a clinician and as a human. I am interested in books that reflect evidence-based therapy practices, as well as books that promote feminism, anti-racism, diverse families, LGBTQ+ affirmation, disability rights, and human kindness. If these are not your values, you are welcome to pursue your recommendations elsewhere. If these are your values, I will do my best to represent them here.
Why have you focused your recommmendations on picture books?
The first answer is that I love them. The second answer is that I believe in them. Good picture books take a slice of human experience and distill it into a few dozen pages. They join a child and say, "You're not alone. I'm here too, and there are other kids who are here, too." They facilitate moments of connection between a child and the person they're reading with, and they can help a child feel understood and seen–"These things you notice and feel and care about matter so much that someone wrote a book about it!"
The best mental health children's books do these things and more. They can open up difficult conversations between children and loved ones and provide hope that there is help to be had and a future that will be better. They can reassure a child that there are other children who relate to their experience and that they aren't alone or "weird," and many teach important skills to help children to understand themselves and feel better. I've read a lot of mental health-related children's books over the years, and there are really great ones. There are also really not great ones. There are books that are preachy, boring, straight-up counter to best treatment practices, and/or outdated and offensive. It can be really hard to tell from the cover and the publisher's description. The goal of Dr. Annie's Bookshelf is to weed out the bad ones and highlight the good ones and the great ones.
Why have you included a section on representation?
It is important for kids to see themselves in stories, and to see children who are different from them, as well. An important note: in some stories, a character's race/ethnicity/gender/disability status is specifically labeled, but in many books, representation occurs exclusively in the illustrations. I have made a decision to try to label these different characteristics as best as I can for the sake of usefulness, but I want to acknowledge that it is impossible to determine a person's race/ethnicity/gender/disability status, or any other piece of identifying information, through an illustration. I don't know how these characters identify or how they see themselves in their hearts, and I apologize for any mis-identifying that I perpetuate.
Is someone paying you to recommend these books?
I am not making any money on this project nor do I have any personal investment in any of the books I am reviewing. It is purely a labor of love and service, and I hope you find it useful!
Did you do this by yourself?
No! Huge thanks to my husband Tim for using hours and hours of his free time to build this website. My good friends Dr. Karen, Dr. Emma, and Dr. Kathryn provided me with encouragement and consultation and continue to do so. Dr. Emma is an autism specialist and provided particularly valuable consultation on the neurodiversity section (coming soon!). Dr. Karen is an expert in evidence-based treatment and helped me think through whether and how certain books reflect evidence-based practices. Many of my friends and family were early supporters and provided invaluable feedback on early versions of the website.