Virginia Wolf
32 pages
•
Published 2012 (Kids Can Press)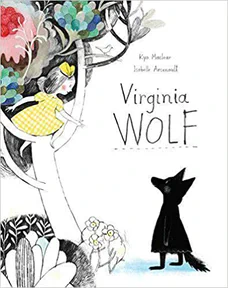 Recommended Age Range:
1st grade through 4th grade.
Publisher's Summary:
Vanessa's sister, Virginia, is in a "wolfish" mood — growling, howling and acting very strange. It's a funk so fierce, the whole household feels topsy-turvy. Vanessa tries everything she can think of to cheer her up, but nothing seems to work… Loosely based on the relationship between author Virginia Woolf and her sister, painter Vanessa Bell, Virginia Wolf is an uplifting story for readers of all ages.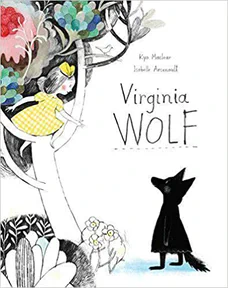 Dr. Annie's Takeaways
Recommended for:
This book is ideal for a child whose sibling is going through a depressive episode and seems "wolfish" (i.e., irritable and grumpy). It is particularly well-suited for a child who might be worried that they no longer matter to their sibling due to a sibling's irritability or withdrawal from family interactions.
Would a child like it?
A child with an irritable and/or depressed sibling would appreciate this book about a topic often overlooked in children's literature. It adds a bit of humor to the darkness of the experience and is sweetly reassuring.
Tone:
Heartfelt, hopeful, a bit funny
Story Quality:
This story does a really lovely job describing the experience of a child whose sibling is struggling with their mood. The story is relatable and somehow a bit funny while still taking seriously how upsetting and disruptive it is when a child's sibling is feeling "wolfish." There are some poetic lines ("The whole house sank. Up became down. Bright became dim. Glad became gloom") that illustrate these feelings, and a couple of allusions to the author Virginia Woolf for the grown-ups. The ending is touching.
Illustrations:
The illustrations are really beautiful and appear to be a mix of colored pencil and paint, maybe pastels too. Virginia and her sister are pictured as shadows, and their world is in black-and-white until Virginia begins to add back in color through her artwork and her sister's mood improves.
Representation:
Virginia and her sister are White girls (her sister is illustrated as a wolf for most of the story). They have a brother and a cat. There aren't any parents in the story.
Psychological Practices:
This book portrays how upsetting it can be for a child when their sibling is struggling with their mood and is irritable, withdrawn, or unhappy. Kids in this situation can feel a bit ignored if the family's attention is on their struggling sibling, and this book makes them the protagonist and illustrates their experience. After acknowleding these challenges, the book shows how a child's love and care can make a difference in their sibling's mood–Virginia supports her sister by sitting with her ("We were two quiet lumps under the blanket") and then by painting a mural on the walls of her sister's room (her sister later joins in). The sisters' mural is a depiction of a magical place "with frosted cakes and beautiful flowers and excellent trees to climb." This part of the story leads well into a
mindfulness
-based relaxation activity I (and probably others) call an "imagination vacation." A child can imagine (and draw if they're into art) their own magical place to think about about whenever they're feeling stressed.
Concerns:
I would never want to suggest that it's a child's responsibility to help their sibling recover from a depressive episode, and even the best mood-lifting ideas don't always work. I don't think this book is really saying that it is a child's job, but a literal read might accidentally suggest this. I would make sure a child knows that this isn't their responsibility, and I would focus on how their love is still important to their sibling even if their sibling isn't showing it right now.
---