Why Are You So Sad?
A Child's Book About Parental Depression
32 pages
•
Published 2002 (Magination Press)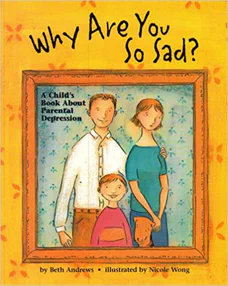 Recommended Age Range:
Best for 1st grade through 3rd grade, but adequately applicable to kindergarteners through 4th grade.
Publisher's Summary:
When a parent has depression, children often feel sad and confused themselves. This interactive book can help by: explaining depression and its treatment in kid terms; reassuring children that their parents can get better; exploring the many feelings children usually have; helping children understand and express their feelings; providing practical tips for coping with a parent's depression; showing children how they can feel better too. Why Are You So Sad? contains a comprehensive and authoritative note to parents by therapists from the disciplines of clinical social work and clinical psychology.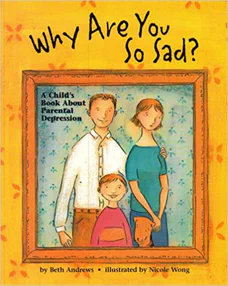 Dr. Annie's Takeaways
Recommended for:
Children with parents (or other caregivers) who have mood disorders will benefit from the developmentally appropriate explanations and reassurances this book provides. It's part workbook, with opportunities for a child to draw and write about their feelings, questions, and experiences related to having a parent with depression. Great for family members, therapists, and/or school counselors to complete with a child whose parent is struggling with depression. Includes a section on hospitalization.
Would a child like it?
It would likely be palatable to most children in small doses–perhaps a handful of pages at a time. It's more of a workbook than a story. It's not super engaging, but it's informative, and the messages will be reassuring to many children who have parents struggling with their mood.
Tone:
Reassuring, matter-of-fact
Story Quality:
This non-fiction workbook isn't a story but rather provides information directly to the child reading it ("This book is just for you"). It's written in a straightforward, child-friendly way that doesn't sugarcoat the experience of having a parent with depression but isn't too dark or frightening either. There are periodic opportunities for the child to draw pictures and complete activities that are nicely timed and facilitate some important conversations (e.g., "How does your depressed parent act? Draw a picture," "Here are some important questions to ask if your parent has to go to the hospital…Do you have any other questions that you want to ask your parent?"). It's not a particularly engaging/funny/touching book, but that's not its purpose. Its purpose is to teach kids about parental depression, and it does that well.
Illustrations:
The illustrations are fine. They're warmly colored and friendly, if a bit boring.
Representation:
The text of this book refers to "mom or dad" as the depressed parent; the pictures all show a White mom with depression, along with a young White boy and his White father. The mother's therapist appears to be a woman of color (perhaps a Black woman), and her doctor is an Asian or Asian-American man. A page discussing the support of one's community includes a picture showing a variety of people of different age, race, gender, and disability status.
Psychological Practices:
This book defines depression ("feelings that have gotten sick"); reassures children that they can't catch it like a cold and that their parent isn't depressed on purpose; describes common symptoms of depression a kid may notice (e.g., fatigue, change in appetite, irritability, crying); normalizes a parent going to a therapist, taking medicine, and going to the hospital "if the depression gets bad enough"; names the many feelings kids may have about having a parent with depression; reminds children that they did not cause depression nor can they fix it and that their parent still loves them and they still love their parent; and touches on a few coping skills kids can use (playing, drawing, kicking a ball, going to a therapist). There are a number of interactive sections in the book that prompt kids to draw and write about their observations, questions, and feelings about having a parent with depression.
Concerns:
One of the coping skills recommended is to punch a pillow if the child is feeling angry. Although certainly better than punching a person or breaking something, aggressive alternatives can actually make a child feel angrier rather than less angry. Exercise or relaxation strategies are likely more effective.
---