What To Do When Your Temper Flares
A Kid's Guide to Overcoming Problems with Anger
88 pages
•
Published 2007 (Magination Press)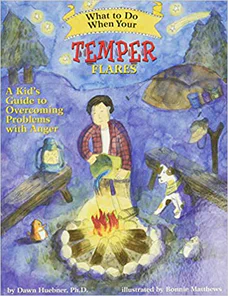 Recommended Age Range:
1st grade through 5th grade.
Publisher's Summary:
Did you know that anger is like fire? It starts with a spark, igniting us with energy and purpose. But it can also blaze out of control, causing lots of problems. If you're a kid whose temper quickly flares, a kid whose anger gets too big, too hot, too fast, this book is for you. What to Do When Your Temper Flares guides children and their parents through the cognitive-behavioral techniques used to treat problems with anger.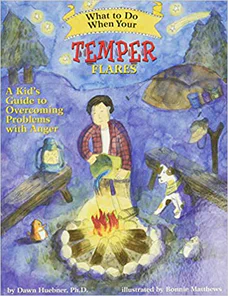 Dr. Annie's Takeaways
Recommended for:
This excellent interactive workbook empowers children to learn strategies to calm their temper. It reviews cognitive strategies (e.g., "cool thoughts") and behavioral strategies (e.g., deep breaths, squeezing a pillow), and it touches on problem solving, compromise, flexible thinking, and avoiding "payback" escalation. It's best for a child who is able to articulate their thoughts to some extent, but if a child isn't yet able to do this, many of the other chapters on "anger-dousing" strategies will still be applicable and helpful. This workbook is great for a child who is ready to learn some strategies as well as a kid who is ambivalent about managing their anger or who doesn't yet feel that it's possible.
Would a child like it?
This workbook is best completed a chapter or two at a time over several weeks, rather than all at once. If paced this way, many children will find it validating and engaging enough to participate in the activities.
Tone:
Encouraging, reassuring, informative
Story Quality:
This interactive workbook is non-judgmental and very helpful. It is filled with clear explanations and a motivating metaphor of anger as a fire that a child is learning to keep from burning out of control. The workbook is broken up into twelve chapters (e.g., "A Secret About Anger," "Recognizing Sparks") that include periodic drawing/writing prompts (e.g, "What are four things you can do while taking a break from an angry situation? Draw or write about them here").
Illustrations:
Black-and-white watercolor illustrations that supplement the text. Each page has an illustration, but some pages are dominated by text.
Representation:
Many different children are portrayed in the illustrations throughout the text (i.e., children with different skin tones, hair, and genders). A few examples include mentions of Mom or of Dad, but it's never explicitly implied that all children have a mom and a dad. Different situations are presented, such as pool parties, sports, recess, movies, and preferred snacks; some of these situations may apply more to some kids than others.
Psychological Practices:
This workbook motivates children to identify ways that they can manage their temper (rather than feeling that it's others' fault and out of their control). It teaches children about the impact of thoughts on feelings and how they can practice having "cool thoughts" rather than "hot thoughts" when something goes wrong. It also teaches three other "anger-dousing" methods: taking a break, releasing anger through active methods (e.g., riding a bike, dancing) and relaxation (e.g., deep breaths, squeezing a pillow), and problem solving (flexible solutions, compromise, moving on). The workbook ends by prompting children to learn to recognize their "sparks" (i.e., their anger triggers) and helping children to come up with alternatives to payback if someone wrongs them on purpose. Throughout the workbook, children are reminded that anger is an important feeling that tells us when something isn't right, and that a child can learn how to listen to this feeling without losing control.
---