There Must Be More Than That!
32 pages
•
Published 2020 (Chronicle Books)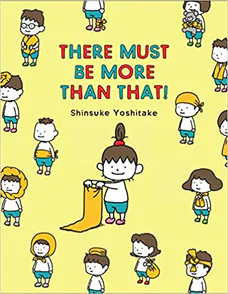 Recommended Age Range:
Kindergarten through 3rd grade.
Publisher's Summary:
What does the future hold? This question can be daunting—or delightfully promising! Readers of all ages will seek solace in this smart and spirited exploration of the good that might be right around the corner.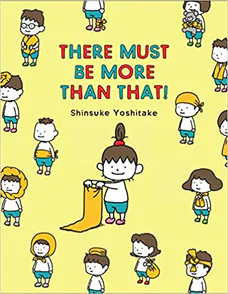 Dr. Annie's Takeaways
Recommended for:
This book is perfect for a child who has been exposed to too much news or adult talk about war, pandemics, climate change, etc. and who is now worried that the future will inevitably be bleak and terrible. It reminds children in a super fun and quirky way that nothing is inevitable and that they can use their imagination to think up alternative ways the future could unfold.
Would a child like it?
The book is funny and has a tone of letting kids in on a secret (that adults don't know all of the answers). The imagined futures are fun and will inspire many children to think up their own future fantasies.
Tone:
Funny, heartfelt, wacky
Story Quality:
This story is quirky, funny, and profound. The main message is that we don't know what the future holds, and when there's a lot of talk of doom and gloom, it can help to imagine all of the possible fun and fantastic futures that could come to be. The author, Shinsuke Yoshitake, really knows how to talk to children. He reminds the reader that adults don't always know the truth and that there is always more than one future possibility, even if adults are acting like doom is inevitable. The future possibilities presented in the book are silly and fantastical (e.g., "a future where your room has a zero-gravity switch), and they will get a child excited to think about all of the different possibilities that could lie ahead of them.
Illustrations:
Simple black-and-white drawings with splashes of pink, teal, green, red, and yellow.
Representation:
I believe the characters in the story are Japanese (Grandma sleeps on a futon, and everyone in the story has straight, dark hair), but there aren't a ton of details indicating race, as the characters' faces are drawn in black and white. This story was originally published in Japanese and has been translated into English. The main character is a girl. She lives with her older brother, mother, father, and grandmother. There is a brief mention of Christmas ("a future where every Saturday is Christmas").
Psychological Practices:
This book teaches a problem solving strategy of using creativity to imagine as many different possible outcomes as possible, and it encourages children to imagine fun, exciting possibilities, in addition to the dire ones that are more often talked about. There is a lovely two-page spread that challenges black-and-white dichotomies (i.e., good vs. bad, love vs. hate, friend vs. enemy) and encourages a more "gray" assessment of situations (e.g., questionable, hard to say, interesting, not bad).
---