The Girl Who Thought in Pictures
The Story of Dr. Temple Grandin
40 pages
•
Published 2019 (The Innovation Press)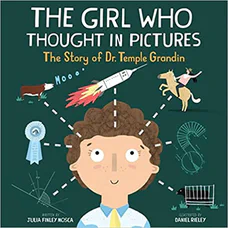 Recommended Age Range:
Kindergarten through 4th grade.
Publisher's Summary:
If you've ever felt different, if you've ever been low, if you don't quite fit in, there's a name you should know… Meet Dr. Temple Grandin―one of the world's quirkiest science heroes! When young Temple was diagnosed with autism, no one expected her to talk, let alone become one of the most powerful voices in modern science. Yet, the determined visual thinker did just that. Her unique mind allowed her to connect with animals in a special way, helping her invent groundbreaking improvements for farms around the globe.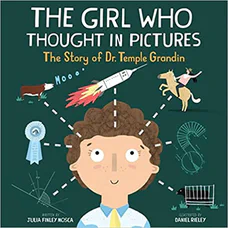 Dr. Annie's Takeaways
Recommended for:
This rhyming biography about Dr. Temple Grandin, autistic scientist and public speaker, sends the message that "being different might just be what makes you so neat." It's an important message for any child to hear, but it's particularly relevant to kids who are neurodiverse (e.g., ADHD, autism, learning disabilities). It's best for children who will enjoy a relatively long book with a lot of words.
Would a child like it?
Children who are interested in biographies will enjoy this fun true story about an autistic role model. Children who aren't as interested in history or biographies might not be as engaged.
Tone:
Upbeat, inspirational
Story Quality:
This rhyming biography of Temple Grandin is energetic and fun. It is a quick overview and only touches on many aspects of Dr. Grandin's life, but it's a good introduction to this iconic woman.
Illustrations:
Cute illustrations in pretty, earthy colors.
Representation:
Dr. Temple Grandin is a White autistic woman who is an influential scientist and public speaker. She learned to speak when she was 3 years old, with the help of speech therapists. She is described as enjoying watching things twirl and hating "bright, crowded places" and "big squeezy hug[s]." In school, she was teased for saying things "over and over." She describes her thinking as visual ("in pictures"), rather than verbal.
Psychological Practices:
This book has the strong message that "Each person is special–so unique are our minds. The world needs your ideas. It takes brains of all kinds." It's an important message applicable to any child whose brain works a bit differently from many people around them, whether due to autism, ADHD, learning disabilities, or any other reason. The book states that Dr. Grandin was "different, not less" and concludes by stating, "So here is the lesson: Feeling odd or offbeat? Being different might just be what makes you so neat." It's important for kids to have role models like Temple Grandin–real people they can relate to who have struggled similarly, who are making a difference in the world, and who are celebrated for who they are.
Concerns:
There is a page that states that people told Temple's mother she'd never be "normal" and that her mother should send her away. Her mother immediately rejects this suggestion and responds, "We will figure this out. You should all be ashamed!" However, for a young child, this could be disturbing and a bit scary, so I wanted to provide a heads up.
---