The Berenstain Bears and the Bad Dream
32 pages
•
Published 1988 (Random House Books for Young Readers)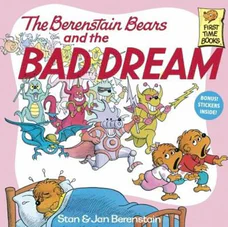 Recommended Age Range:
Preschool through 1st grade.
Publisher's Summary:
Brother and Sister have started having bad dreams. Now it's up to Mama and Papa to help them understand that even though bad dreams can be scary, they aren't real. Includes over 50 bonus stickers!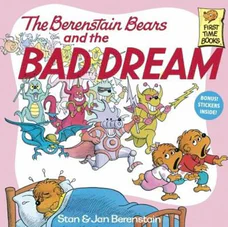 Dr. Annie's Takeaways
Recommended for:
This vintage Berenstain Bears book explains what nightmares are to children–that they are not real and that they are often a jumbled up collection of things the child was thinking about or feeling throughout the day. This explanation could be really useful to a child who has been having nightmares. It demystifies a nightmare and although it won't prevent a bad dream, it could help a child to calm down more quickly once they are awake and to fall back asleep more quickly.
Would a child like it?
It's a classic story with a bit of family tension, two nightmares, and a happy ending. It's perhaps a bit long and a bit boring, but a child struggling with nightmares will probably love it.
Tone:
Informative, a bit silly
Story Quality:
This story is a bit long for a young child, and there are aspects that feel outdated to a modern reader (more on that below), but it's a decent story, particularly for fans of the Berenstain Bears, and its messaging about nightmares is really useful. The plot consists of the Berenstain Bears siblings going about their days–playing, watching movies. Both cubs have nightmares that night, which are inspired by the games they played and the movies they watched earlier in the day. A child reading the book will recognize the different aspects of the children's dreams that match things they did that day. The parents then explain to the cubs what nightmares are and how they can be influenced by thoughts and feelings from the previous day.
Illustrations:
Colorful cartoons with a lot of details to look at. Many children (and the adults reading with them) have read at least one of the Berenstain Bears books before and will recognize the characters.
Representation:
This book was written in 1988, and it has some now-outdated gender role representation. Brother wants to see an action movie that looks scary to Sister so she goes to see a musical about a ballerina. Sister wants to play with paper dolls and although Brother plays with her, he's grumpy about it. Mama is primarily invested in Brother not bringing toys to the dinner table, and Paper doesn't pay much attention at all (he's reading the paper). That said, it does show that although Brother thinks he's too cool to be scared by a bad dream, in the end he and Sister both have nightmares and run screaming into their parents' room.
Psychological Practices:
This book makes an attempt to explain nightmares to children. It reminds children that nightmares aren't real, even though they may seem very real, and it explains that "even though you go to sleep, your mind keeps right on thinking, but it doesn't think in a sensible way. It takes all the things you were thinking, or were nervous about during the day, and puts them together all jumbled, like a mixed up jigsaw puzzle." This is definitely an oversimplification. Dreams are very complex, and scientists are still learning about why we dream in the ways that we do. However, there is certainly some truth to this book's definition, and it can help children to make some sense of their nightmares.
Concerns:
Nothing beyond my notes above about gender representation.
---