Not Today, Celeste!
A dog's tale about her human's depression
49 pages
•
Published 2016 (Jessica Kingsley Publishers)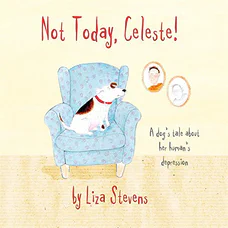 Recommended Age Range:
Preschool through 3rd grade.
Publisher's Summary:
Celeste thinks she is the happiest dog in the world. But when she notices something different about her human, Rupert, she wonders if things will ever be the same again. Charmingly illustrated, this heart-warming story for children aged 3+ reflects some of the feelings and experiences that a child whose parent or carer has depression may face…The story provides reassurance by explaining what depression is and how it is possible to find help.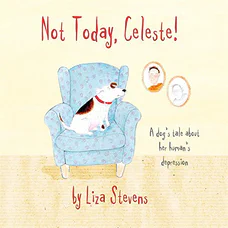 Dr. Annie's Takeaways
Recommended for:
This adorable story is great for young children to read with a parent or caregiver who is struggling with their mood. This book is reassuring for both children and their parents–it teaches children that their parent's depression isn't the child's fault, that their parent still loves them, and that there's help to be had; it reminds parents that depression isn't their fault either and that their child will continue loving them.
Would a child like it?
This book has some whimsy, and Celeste is very cute. For a dark topic, this book is warm and reassuring, while not overly sugarcoating the experience of having a parent or caregiver with depression.
Story Quality:
This big-hearted story features a loving dog with an owner struggling with depression. The language is simple but charming. It speaks to the adoration a child has for their parents even when they're experiencing depression, as well as how disconcerting their parents' symptoms can be if the child does not understand what's happening. It's sweet, sad at times but not particularly dark, and it ends on a hopeful yet realistic note. I am always charmed by a good dog-centric story, and this one nails it.
Illustrations:
Colored pencil drawings with a modern, arty flair.
Representation:
The main character, Rupert, is a White man with a dog named Celeste. Rupert and Celeste are supported by their neighbors Lily, a White woman, and her dog Henry. They live in a house with a yard. The story is written in British English (e.g., Rupert is said to be doing "poorly").
Psychological Practices:
Provides a kid-friendly definition of depression, reassures children that it isn't their or their parent's fault, and provides hope that there is help to be had and that their parent will get better. Celeste initially refers to Rupert's depression symptoms as "Something Different" before she learns the term depression. Rupert doesn't want to take her for a walk, has to be reminded to feed her dinner, doesn't want to play, and shouts at her. She shares her feelings about this change–sad, lonely, angry, worried, scared, and she wonders if it's her fault and if Rupert still loves her. Rupert's neighbor Lily helps Rupert and Celeste by teaching Celeste about depression ("Rupert's poorly, Celeste, but not in his tummy or his throat or his ear. His feelings are poorly…The poorly feelings are called depression"). She also tells Celeste that it's not her fault (or Rupert's), that Rupert still loves her, and that it's not her job to help him to feel better. Rupert gets help (an illustration pictures something that looks like group therapy), and he starts to feel better. The book ends by acknowledging that the depression may come back but it "won't be Something Different anymore," and that Celeste still sees Rupert as "kind, funny, handsome, clever, and very very brave."
---