Not Quite Narwhal
40 pages
•
Published 2017 (Simon & Schuster Books for Young Readers)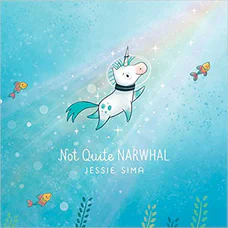 Recommended Age Range:
Kindergarten through 4th grade (but many adults will love this book too).
Publisher's Summary:
Growing up in the ocean, Kelp has always assumed that he was a narwhal like the rest of his family. Sure, he's always been a little bit different—his tusk isn't as long, he's not as good of a swimmer, and he really doesn't enjoy the cuisine. Then one night, an extra strong current sweeps Kelp to the surface, where he spots a mysterious creature that looks just like him! Kelp discovers that he and the creature are actually unicorns. The revelation leaves him torn: is he a land narwhal or a sea unicorn? But perhaps, if Kelp is clever, he may find a way to have the best of both worlds. Told with heartwarming illustrations and spare, sweet text, Jessie Sima's debut picture book is about fitting in, standing out, and the all-encompassing love of family.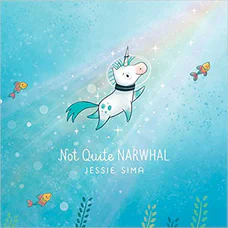 Dr. Annie's Takeaways
Recommended for:
This story celebrates finding a community of people a child relates to and can learn from (whether this be a community of kids and adults who are neurodiverse, gender diverse, or any other identity that might be different from most of their friends). At the same time, it models love and acceptance from one's friends and family who do not share the same identity, and it concludes with the land narwhal (i.e., unicorn) protagonist of this story bringing his narwhal and unicorn communities together for a fun day of beach-sea volleyball.
Would a child like it?
It's a super cute, heart-warming story about a unicorn who doesn't quite fit in. Most kids will relate to it in some way and many will love it.
Tone:
Funny, heartwarming, so sweet
Story Quality:
This story is super adorable, well-written, and poignant. It captures an experience that many children (and adults!) will relate to, and it is loving and inspiring without being too heavy-handed or syrupy sweet.
Illustrations:
Charming, colorful illustrations with emotional resonance.
Representation:
Kelp is a unicorn who uses he/him pronouns. He lives in the ocean, and his family and friends are narwhals. He discovers a group of unicorns on land ("Land narwhals!") who become his friends, too.
Psychological Practices:
This book accomplishes two important things. It celebrates finding a community one relates to (in this case, unicorns!), and it models love and acceptance from a community of people who are different from oneself. When Kelp finds the community of unicorns, it helps him to better understand himself–why he is a worse swimmer than his friends, and why he has different food preferences. The unicorns teach him about his horn and how to gallop. But he misses his narwhal friends and returns to the sea. Kelp is nervous to share with his narwhal friends that he's actually a unicorn, but when he does, his friends are supportive but not-at-all surprised ("We all knew that"). Kelp is then torn–does he want to be a "land narwhal" or a "sea unicorn"? The story concludes with Kelp uniting his unicorn and narwhal friends at the beach–a place that is accessible to both communities. This story's metaphor is super applicable to anyone who has experienced the joy of finding one's people. It is also a positive, non-traumatic coming out story that is applicable to anyone who has found themselves in the position of disclosing something about their identity to their friends and loved ones, as often occurs with neurodiverse and LGBTQIA children.
---