Lola's/ Leo's Words Disappeared
50 pages
•
Published 2013/2014 (CreateSpace Independent Publishing Platform)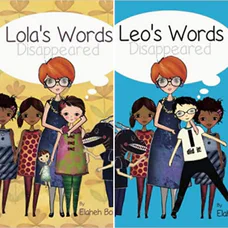 Recommended Age Range:
Kindergarten through 2nd grade.
Publisher's Summary:
As Lola/Leo starts school, something strange happens. Her/his words disappear! Now Lola/Leo must find new ways to give her/his words the courage to come back. A fun and practical introduction to different techniques of anxiety management, specifically used for children with selective mutism. Most effective when followed up with the activity book. This series explores six anxiety reduction and management techniques.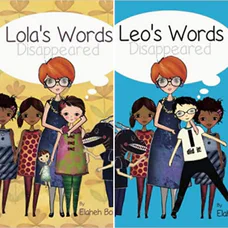 Dr. Annie's Takeaways
Recommended for:
These books (there are two nearly identical versions–one featuring a girl, Lola, and one featuring a boy, Leo) are great for therapists to use with children with Selective Mutism (SM) as a way of destigmatizing the experience and of introducing the idea that there are different steps the child can take to work towards overcoming their SM. The books come with a website where you can print out paper dolls of the characters in the story, which I really love. Caregivers can read these books with a child at home, too, especially if they have a therapist they and their child are working with or if they're already familiar with the techniques included in the books (e.g., making a worry box, diaphragmatic breathing). Also available in French.
Would a child like it?
A child with SM will feel seen and reassured by this book. It provides hope that the child's voice will one day come back as well as concrete strategies for working towards this goal. The story is cute enough to make the therapeutic tools more palatable.
Tone:
Reassuring, matter-of-fact
Story Quality:
For a therapy book with the clear intention of teaching specific coping skills,
Lola's/Leo's Words Disappeared
has some heart and sparkle. It includes some cute details about Lola/Leo (e.g., they like to pretend they're a dragon fighter, and they know how to write their name in "all the ways" including "the up way, and the down way"). These details remind the reader that Lola/Leo is worth knowing and has a lot to say, and it gives the story a bit of authenticity. In general, the story is well-written and uses the right amount of words to get its points across in a kind, clear manner.
Illustrations:
Slightly strange, but somehow also appealing, paper doll-like illustrations with a lot of texture.
Representation:
This book comes in two versions:
Leo's Words Disappeared
(with a boy protagonist) and
Lola's Words Disappeared
(with a girl protagonist). I really like that the author did this–representation really matters to kids, and many kids will connect best with the book that features the same-gendered protagonist. The two books are nearly identical, with a few (vaguely annoying) gendered changes. For example, Lola "dressed up as a dragon fighter and a princess, as a knight and a flying monkey." Leo "dressed up as a dragon fighter and a clown, as a knight and a flying monkey." Lola makes cupcakes with her friend Emma; Leo and Emma build a rocket together. Both kids' favorite toy is a robot doll; they both like to twirl. Lola and Leo are both White. Their friend Emma is a Black girl. Their classmates are White and Black and Asian, and they're friends with boys and girls. Their teacher is a White woman. The books are available in English and French.
Psychological Practices:
Selective Mutism (SM) is often complex, but for many kids it stems from anxiety, as is represented in these books. They accurately show how children with SM are often quite chatty at home and in spaces they're more comfortable, but in less familiar places are unable to speak. The book models language externalizing SM (e.g., "Lola decided to help her words be a little braver"), and presents several different strategies for coping with worry and anxiety that often underpin SM–deep breathing, a worry box to write down and contain their worries, designated "worry time," "worry friends" to tell their worries to, drawings pictures of their worries and of their goals (i.e., "talking to her/his friends at school"), thinking through the best and worst case scenarios that could happen if they spoke at school, practicing speaking to themselves in front of a mirror, and slowly working up to speaking in class (pretending to talk, making sounds to themselves, whispering to friends, and finally talking in a loud voice). The book comes with a
website
that includes free resources to use along with the book (e.g., printable paper dolls of the characters in the book, a worry time clock, and worry box cards). There is also an accompanying activity book that is sold separately,
Lola's/ Leo's Words Disappeared and Came Back!
. It has some additional activities, like asking a child to draw a picture of themselves feeling worried and having them write down their own steps for helping their voice to come back, but it's not significantly more helpful than the book by itself, plus some paper and markers.
---