A Friend for Henry
36 pages
•
Published 2019 (Chronicle Books)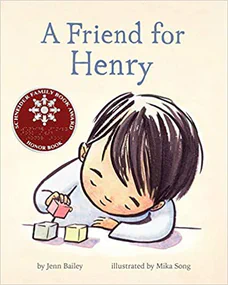 Recommended Age Range:
Preschool through 3rd grade.
Publisher's Summary:
In Classroom Six, second left down the hall, Henry has been on the lookout for a friend. A friend who shares. A friend who listens. Maybe even a friend who likes things to stay the same and all in order, as Henry does. But on a day full of too close and too loud, when nothing seems to go right, will Henry ever find a friend—or will a friend find him? With insight and warmth, this heartfelt story from the perspective of a boy on the autism spectrum celebrates the everyday magic of friendship.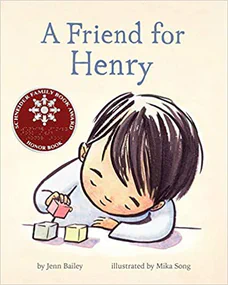 Dr. Annie's Takeaways
Recommended for:
This book is a really lovely read for children who are autistic and interested in making friends, as well as children who are not autistic but who struggle with inflexibility around rules (e.g., sharing) and literal interpretations (e.g., challenges with imaginary play). It aligns with a child who is feeling frustrated with the behavior of their peers who don't always follow the rules or act logically, and it compassionately helps children to consider what they might look for in a friend, and how a bit of flexibility may help with this. This book could also be a good read for the peers of an autistic child who could use a reminder that their autistic classmate's perspective is valid and that many friendships are forged on shared interests.
Would a child like it?
I can imagine a child who relates to Henry loving this book. It's not at all preachy and it's so hopeful and sweet.
Tone:
Sweet, validating, hopeful
Story Quality:
This story is a delight. The author, Jenn Bailey, captures in the most loving way the frustrations of many autistic children's efforts to make friends and provides an example in the end of an authentic friendship built on mutual respect, shared interests, and understanding. The story is unique and brimming with empathy. It made me tear up!
Illustrations:
Pretty, warm illustrations in watercolor and maybe pastel or crayon.
Representation:
Henry is a boy with light brown skin and straight black hair. He is described as being "on the autism spectrum" in the publisher's description, but no labels are used in the text of the story. Henry is verbal and able to make social overtures, but he is thwarted by his inflexibility and literal interpretations (e.g., When a boy in Henry's class declares that his carpet square is a magic carpet, Henry becomes angry and argues that it is not a magic carpet; it's a rug from Rug World–"There's the sticker"). Henry makes a friend who is a Black girl named Katie. She has her own specific preferences (e.g., she hates broccoli and likes to go down the big slide backwards), and she respects Henry's. They have shared interests in building with blocks and watching the classroom fish. Henry and Katie's teacher is a Black woman, and their classmates have different skin colors, genders, interests, and energy levels.
Psychological Practices:
This book lovingly validates the frustration that many kids (autistic or not) feel when their peers don't follow the rules or act how a child was taught they are supposed to act in social situations ("A friend would say thank you"). It aligns with these frustrations and gently shows a child what to look for in a friendship beyond rule-following (e.g., shared interests, mutual respect), and with a very light touch, it encourages increased flexibility (Henry waits for his friend at the bottom of the slide, even though this isn't his preferred activity). Importantly, the book doesn't at all encourage a child to change who they are or compromise their values, but rather it encourages children to be themselves and find other children who share their interests and values.
---