Tiger Vs. Nightmare
64 pages
•
Published 2018 (First Second)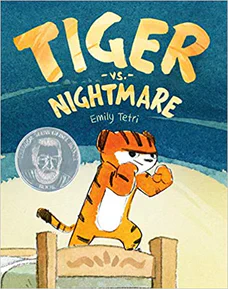 Recommended Age Range:
Kindergarten through 3rd grade.
Publisher's Summary:
Tiger is a very lucky kid: she has a monster living under her bed. Every night, Tiger and Monster play games until it's time for lights out. Of course, Monster would never try to scare Tiger―that's not what best friends do. But Monster needs to scare someone…it's a monster, after all. So while Tiger sleeps, Monster scares all of her nightmares away. Thanks to her friend, Tiger has nothing but good dreams. But waiting in the darkness is a nightmare so big and mean that Monster can't fight it alone. Only teamwork and a lot of bravery can chase this nightmare away.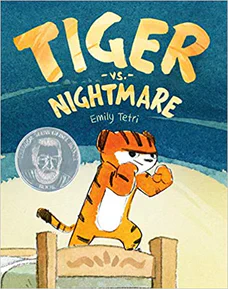 Dr. Annie's Takeaways
Recommended for:
Written in comic book style, this book teaches children that they can stand up to a nightmare and dispel it by reminding themselves that the nightmare isn't real. It's best for a kid who enjoys some action, as the scenes depicting Tiger and her friend Monster battling the nightmare are a bit scary.
Would a child like it?
This book is exciting and engaging. Some children might find it a bit scary, but others will enjoy the battle scenes between Monster, Tiger, and Nightmare.
Story Quality:
This story is written in comic book style, and it's a great adventure story about a Tiger, her best friend Monster, and their battle against nightmares. The story has a scary part in the middle, but it ends on a victorious note. Tiger and Monster's relationship is very sweet.
Illustrations:
A lot of the action in this story takes place visually. Tiger and Monster are quite cute (Monster kind of looks like one of the characters in Pixar's
Luca
), but the nightmare is really scary looking (it's huge and has a scary skull face and black ghostly body). For a child sensitive to frightening images, heads up! For a child who likes a good action sequence, this nightmare is fearsome and ultimately conquered by Tiger's bravery.
Representation:
Tiger is a female tiger. She uses she/her pronouns but there's nothing else gendered about her. She lives with her parents (a mother and a father tiger), and her best friend is a Monster who lives under her bed. They enjoy curry and tacos and live in a human world.
Psychological Practices:
At the start of the book, Monster fights off all of Tiger's nightmares for her, but when an extra scary nightmare breaks through, Tiger has to learn to defend herself. She does this by shouting at the monster, "You're not real!" which generates a force field around her and causes the nightmare to explode like a firework and disappear. The primary messages of this book are that nightmares aren't real and that saying this to oneself and to the nightmare will make it go away. A child might also enjoy visualizing a force field around them that wards off the nightmares. This strategy won't stop a nightmare from waking up a child, but it will likely help them to feel less scared once they are awake and to fall back asleep again more quickly.
---