Pout Pout Fish Far, Far From Home
32 pages
•
Published 2017 (Farrar, Straus and Giroux)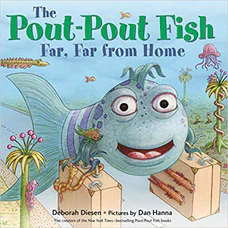 Recommended Age Range:
Preschool through 2nd grade.
Publisher's Summary:
Mr. Fish has prepped and packed, and he's made big plans to roam. He's ready for adventure on his trip away from home! But sometimes trips have detours and not everything goes right. Without his favorite toy, can he fall asleep at night?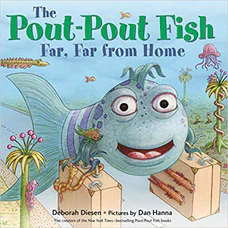 Dr. Annie's Takeaways
Recommended for:
This book is an excellent read before, during, or after a vacation to help a child prepare for/ cope with/ or process a trip not going exactly as planned. Mr. Fish is initially frustrated by all of the disappointments, but then he realizes that the hiccups came with new opportunities and adventure (e.g., a detour takes him to a beautiful view). This book could be used more generally as a way to talk about things not going as planned and how a child can cope with this and be more open to disappointments and detours leading to new opportunities.
Would a child like it?
The rhyming text is very fun to read, and it includes a repeated refrain that many children, whether they are able to read on their own or not, will memorize and want to join in reading.
Tone:
Energetic, upbeat, expressive
Story Quality:
This book, like the other Pout Pout Fish books, has a great rhyming cadence, fun use of alliteration, and a repetitive text refrain that kids will enjoy joining in on. It also has a really effective story arc of nothing going as planned, which is initially frustrating to Mr. Fish, but which ultimately results in a trip full of unexpected, gratifying experiences. It's a realistic portrayal of vacations, which never quite go as planned.
Illustrations:
Expressive, attractive watercolor and pen cartoons of colorful under-the-sea life. The illustrations have lots of fun details.
Representation:
Mr. Fish uses he/him pronouns. He interacts with other non-gendered sea creatures while on his big vacation.
Psychological Practices:
This story has the ultimate message that "Not every single part of a trip goes swell,/ But the detours and the bumps/ Are the trip as well." Mr. Fish works hard to plan his trip to go exactly right, but things keep going wrong. There's a detour on the road, he runs out of snacks, his suitcase breaks open, and he realizes he forgot his "snoozy-snuggly." With each of these bumps, Mr. Fish is frustrated, but he also, somewhat subtly, has a positive experience–the detour takes him to a fabulous view he would have otherwise missed. He stops at a diner and eats some delicious food, which he wouldn't have tried if he hadn't run out of snacks. He realizes that he can fall asleep without his snoozy-snuggly. (He takes a deep breath, pictures his snoozy-snuggly, and thinks, "I miss you very much. I don't like that we're apart. But until we're back together/ I will hold you in my heart.") Mr. Fish has a moment in the middle of the book when he feels "dreary-weary" and wants to go home. But he takes a deep breath which "soothe[s] his commotion", after which he is able to enjoy the adventures of his vacation. The book does a nice job of simultaneously validating the frustrations and disappointments of things not going according to plan, while presenting the possibility that bumps and detours can open up new possibilities and be part of the adventure.
---