My Brother Otto
32 pages
•
Published 2019 (Gibbs Smith)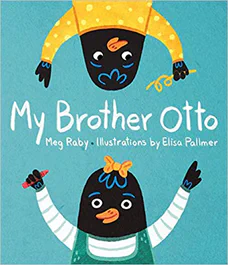 Recommended Age Range:
Preschool through kindergarten.
Publisher's Summary:
This engaging picture book shows everyday life with little crow siblings when one of them is on the autism spectrum…The book provides explanations for Otto's differences and quirkiness in an easy-to-understand language, and highlights Otto's desires for adventure and love―just like his peers…My Brother Otto is a sweet story about a sister and a brother who engage in common, everyday experiences in their own unique way with the idea that kindness and understanding always win!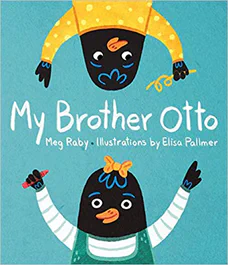 Dr. Annie's Takeaways
Recommended for:
This book is a cute, upbeat introduction to the idea that although children might be different in many ways, they all want "to play, learn, have friends, and be loved." It's ideal for young, non-autistic children with a non-speaking or minimally verbal autistic sibling. This book never explicitly labels Otto as autistic, so it's a good fit for a family that has not yet talked with their children about diagnoses, or for a family with a child who has some autistic features but a different diagnosis.
Would a child like it?
A young child with an autistic or non-speaking sibling would likely enjoy this cheerful book about a crow family similar to theirs.
Story Quality:
The story attempts to send the message that despite his differences, Otto is "a little crow who likes to play, learn, have friends, and be loved, just like [his sister, Piper]." I'm afraid that it doesn't show this message as successfully as it sets out to; the narrator spends much of the book articulating the ways that Piper and Otto do things differently. But it's quite cute and uses a very light touch to normalize a lot of experiences that the siblings of autistic kids might have.
Illustrations:
Super adorable illustrations with a lot of great color and pattern.
Representation:
Piper is a female crow who narrates the story. Her brother is Otto is a male crow who is non-speaking (he uses a tablet to communicate) and has specific interests (e.g., the color yellow, playing with his ears, twirling, deep squeezes). Although the description of the book states that Otto is autistic, no labels are used in the story. Piper and Otto have a mother and a father.
Psychological Practices:
This story cheerfully touches on some events in Piper's life that many children with autistic siblings may relate to–e.g., Otto has trouble sharing his swing at the playground, "peck[s]" his mother when he has to wear an outfit that isn't yellow (which scares Piper), and orders a meal at a restaurant using an assistive communication device. It also shows the siblings playing, enjoying storytime at the library, and getting equal love and affection from their parents. This story is perhaps more normalizing than it is validating, but there is a time and a place for that.
Concerns:
There is a line that refers to Otto's behavior as "naughty" when he has to wear a non-preferred shirt. This word choice is stigmatizing and unhelpful. Otto's mother later clarifies that Otto's behavior is his "way of saying he doesn't like something," which mostly redeems it.
---