Just So Willow
32 pages
•
Published 2019 (Union Square Kids)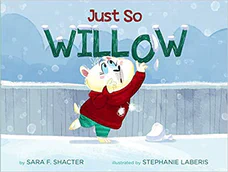 Recommended Age Range:
Preschool through 1st grade.
Publisher's Summary:
The delightful story of a finicky polar bear who learns that having friends and fun is more important than things being "just so." Willow is a polar bear who likes things just so. She even irons her underwear and tidies her teacher! So when a storm covers her backyard in a smooth blanket of snow, she's determined to keep it that way—in spite of all the other kids creating a lumpy, bumpy mess. Will Willow realize that being particular is making her miss out on all the fun?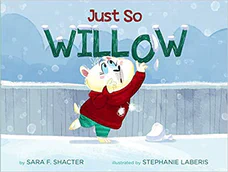 Dr. Annie's Takeaways
Recommended for:
Young children who like things to be "just so," especially in a neat/tidy/clean/organized manner will relate to Willow who learns (accidentally at first) that tolerating some messiness is worth it for the fun that comes with it. Therapists may find this to be a non-threatening introduction to the benefits of
exposure
and/or to a conversation about the pros and cons of needing things to be just so, in order to motivate a child's openness to practicing flexibility.
Would a child like it?
Any child who relates a little to the disappointment of messing up a fresh blanket of snow will like this book, whether or not they struggle with perfectionism. It's a fun story with some silliness, a tantrum, and a happy ending.
Story Quality:
This story is written with playful language and lots of alliteration that makes it fun to read aloud. Willow is perfectionistic (one might say compulsive) about cleaning and tidying. She does things like ironing her underwear, lining up her spaghetti in straight rows, and picking up bits of paper off the floor of her classroom. When the children playing next door accidentally mess up the fresh blanket of snow in her backyard by throwing a snowball over the fence, she loses it and yells at them. When she accidentally joins them (she concocts an elaborate plot to avoid stepping in the snow and sledding ensues), and she messes up the snow in her yard, she realizes that the fun is worth a bit of mess. It's a sweet story for young kids about the benefits of embracing imperfection in order to play and have fun.
Illustrations:
Attractive, cozy illustrations of cute cartoon-like animals with expressive faces.
Representation:
Willow is a female polar bear cub. Her neighbor friends are different animals, some of whom do not live in the snow (e.g., a toucan). They live in human houses and play human games.
Psychological Practices:
Willow really hates things being messy, and when she isn't able to keep her yard tidy, she gets really angry at her neighbors who messed it up. Based on how extreme her reaction is, my guess is that there's anxiety behind this–perhaps something that we might classify as an obsessive thought, although I can't know that for sure! After attempting an elaborate plan to avoid messing up the snow in her yard any further, she ends up falling into the neighbors' yard on a piece of fence that turns into a sled. She has a lot of fun and in the end realizes that the sled marks through her yard are worth it for the fun she's had. I appreciate that she isn't unrealistically cured of her perfectionistic urges –she stacks snowballs in a perfect pyramid with her friends and sees the path through her yard as "oh-so-perfect." But she realized that she can mess things up a bit, and not only did nothing bad happen, but she made new friends and had a really fun day. This is a great introduction to talking about the benefits of
exposure
for a young child (i.e., she thought it would be awful, and then it turned out to be really fun, and she was able to tolerate the mess!).
---