Goodnight, Good Dog
32 pages
•
Published 2015 (Clarion Books)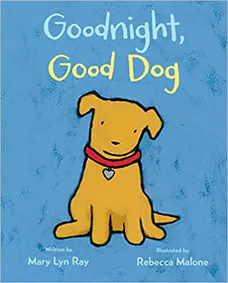 Recommended Age Range:
Toddler through 1st grade.
Publisher's Summary:
It's time to say goodnight. But what if a dog isn't sleepy? Intimate and accessible, this young dog story captures how a reluctant pup warms to bedtime in a way that children will recognize immediately–and find as reassuring as their own beds.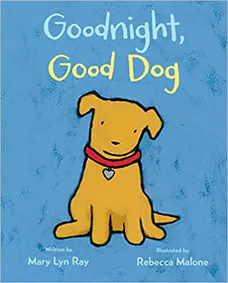 Dr. Annie's Takeaways
Recommended for:
Young children who like dogs will enjoy this very adorable book about a dog who isn't sleepy even though it's bedtime. This book will help a non-sleepy child feel understood, and it encourages a child to get snug in their bed and think about the highlights of their day and what they're looking forward to tomorrow. This book is also available in Spanish.
Would a child like it?
This book is extremely cute and relatable to any child who has ever been wide awake when they were supposed to be sleepy.
Story Quality:
Anyone who loves a dog will love this book. You can get it in hardcover or as a board book, and it's certainly accessible to a very young child–the sentences are concise and use simple language. But there's a poetry to this book that an older child and even an adult will appreciate (e.g., "He knows the shadows in the corners of the room. He also knows the quiet that comes: moon quiet. And he knows his bed, round like the moon"). Mostly I'm including this book because as the dog is finally falling asleep, he says to himself, "Goodnight, good dog," which is the cutest thing ever. I want to start saying to myself, "Goodnight, good girl." What a way to end the day.
Illustrations:
Cute (maybe acrylic) paintings with an imperfect, soft edge and an emphasis on relaxing blue-green-purples.
Representation:
The dog uses he/him pronouns. He lives with a White girl in a house. The book is available in Spanish and English.
Psychological Practices:
This book empathizes with a child who isn't feeling sleepy even though it's bedtime. The dog uses two strategies to wind down that could also be helpful to a not-sleepy child. He reflects on the high points of his day (playing with his little girl, running in the grass, eating his food). Reflecting on the day and noting the day's main events is a mindfulness strategy that can help a child to unwind before bed. The dog then tries curling up in his bed and reflecting on what he's looking forward to tomorrow (the sun coming back), and before he knows it, his little girl is waking him up for a new day.
---