Good Night Yoga
A Pose-by-Pose Bedtime Story
36 pages
•
Published 2015 (Sounds True)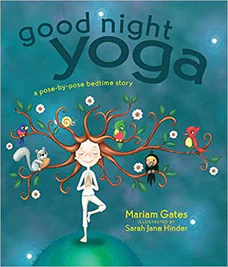 Recommended Age Range:
Preschool through 4th grade.
Publisher's Summary:
This beautifully illustrated, full-color book tells the story of the natural world as it closes down for the night, while teaching children a simple flow of yoga postures inspired by their favorite characters from nature. Moving from "Sun Breath" to "Cloud Gathering" to "Ladybug & Butterfly" and more, readers learn techniques for self-soothing, relaxing the body and mind, focusing attention, and other skills that will support restful sleep and improve overall confidence and well-being.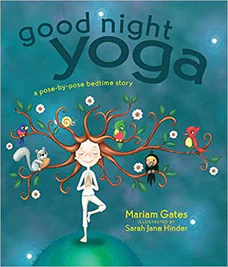 Dr. Annie's Takeaways
Recommended for:
This book walks children through a relaxing yoga routine to help them settle their bodies prior to going to sleep. For a child who often has the wiggles or feels uncomfortable when they get in bed at night, this book could be really helpful. The visualizations that accompany the yoga poses (e.g., picturing birds settling in a tree at night) could also help a child to settle their minds before sleep. This book is also available in Spanish and German.
Would a child like it?
It depends whether a child is open to yoga-type exercises or not. For a child who likes to move their body, this book will likely be a fun, peaceful addition to a nighttime routine. I imagine kids who see their parents doing yoga will be most interested in this book.
Story Quality:
The concept of this book is really lovely. The narrative of the story is a description of the natural world quieting down for sleep (the sun sets, the moon rises, the animals settle down for the night). With each page, a child is taught a corresponding yoga pose (e.g., "My feet press together and my knees spread out like butterfly wings"). The execution of this is a bit funky, and if you just read from left to right, it makes no sense (the descriptions of the yoga poses cut into the narrative and interrupt sentences). If this becomes a part of a child's bedtime routine, they will eventually memorize the pose instructions, and the narrative could be the only part that's read.
Illustrations:
The illustrations are colorful and basically attractive. The kids' noses are a little funky. Many children won't spend a ton of time looking at the pages since, theoretically, they will be in yoga poses.
Representation:
There is a different child pictured for each yoga pose (there are 11). The kids have slightly different skin tones, but most of them are White. There are three children who have light brown skin and black hair. Seven of the kids are girls and four are boys. This was a missed opportunity to include more diversity in the illustrations in order to send the message that yoga can be for everyone. The book is also available in Spanish and German.
Psychological Practices:
After a long day of excitement, or stress, or whatever else is going on for a child, relaxing one's body can be the most effective means of relaxing one's mind. These yoga poses are accessible to children, don't take much yoga "skill" (even I can do them!), and they could help a child to calm their mind and body prior to going to bed.
---