A Bedtime Yarn
32 pages
•
Published 2017 (Tundra Books)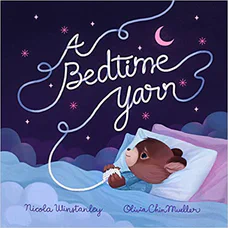 Recommended Age Range:
Preschool through 1st grade.
Publisher's Summary:
Frankie is a little bear who has a hard time falling asleep. The dark is scary, and he hates to be alone. So his mother gives him a ball of yarn to hold when he goes to bed, and she keeps the other end in the next room, working it into a surprise for Frankie. Every few nights the yarn color changes, and Frankie dreams in all the colors that he and his mother pick out. One night he's swimming in turquoise water, another night he's in a cool gray fog. He plays with a marmalade kitten and eats delicious chocolate cake. Eventually Frankie and his mother create something special–and Frankie learns that he's always connected to those he loves, even when he's alone in the dark.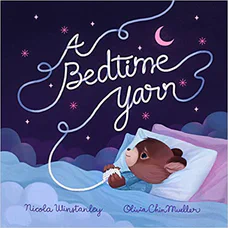 Dr. Annie's Takeaways
Recommended for:
This comforting bedtime story helps a child to visualize a connection between themselves and their caregiver as they drift off to sleep. It's a book filled with vibrant imagery about magical, colorful dreams that ends with a little cub being brave and conquering his fear of the dark. Any child with a caregiver who knits will particularly enjoy this book.
Would a child like it?
It's not an exciting story, but it's really sweet and maybe just boring enough to be a good bedtime story. It's filled with vibrant imagery that many children will enjoy.
Story Quality:
First off, I love the pun in the title. More importantly, this story is filled with beautiful imagery that's simultaneously vibrant and peaceful. It's a sweet story of Frankie the Bear conquering his fear of the dark through his mother's knitting and his own bravery. Nothing bad happens; there's no tension or sadness. But it's engaging and will fill a child's imagination with colorful, soothing scenes.
Illustrations:
Vibrant, almost glowing illustrations that have a dream-like quality to them.
Representation:
Frankie is a male bear cub, and he has a mother bear. They live in a home with a fireplace. Frankie has his own bedroom.
Psychological Practices:
Frankie's mother leaves him with a different colored ball of yarn each night while she knits in another room so that he feels connected to her while he sleeps. Frankie is afraid of the dark and feels "anchored" by the yarn. By the end of the book, Frankie says to his mother, "I'm still a little bit afraid, but I'm ready to get rid of the yarn." She places an "invisible ball of yarn" in his paws, and he wakes up the next morning under a quilt made of all of the colors of yarn he'd held. A child who is nervous about sleeping by themselves might be comforted by imagining a brightly colored ball of yarn connecting them and a caregiver as they fall asleep.
---